Diecezja sandomierska
"Paczka dla Ukrainy"
Włączając się w ogólnopolską akcję Caritas "Paczka dla Ukrainy", członkowie Akcji Katolickiej z par. Św. Rodziny w Trześni zorganizowali "w trybie alertowym" zbiórkę żywności i produktów chemii gospodarczej. Na nasz apel odpowiedziało kilkadziesiąt osób i udało się w ciągu jednego dnia zebrać prawie 100 kg produktów. Paczki świąteczne z tymi artykułami już następnego dnia, dzięki uprzejmości księży jadących na Ukrainę, pojechały do Gródka i Lwowa.
Nasza jałmużna wielkopostna zapewne umili święta wielu potrzebującym – powiedziała organizatorka akcji pani Maria Kasak. W tą akcje włączyło się też wiele innych oddziałów Akcji Katolickiej.
Ks. Artur Barański; 29-03-2014
---
Archidiecezja poznańska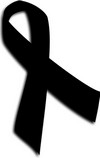 Ja jestem zmartwychwstaniem i życiem.
Kto we Mnie wierzy, to choćby umarł żyć będzie. (J 11,25)
W czwartek, 27 marca 2014 roku, w 54 roku kapłaństwa odszedł do Domu Ojca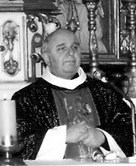 Ks. Prałat dr Stefan Schudy
wieloletni duszpasterz akademicki, proboszcz, wykładowca i wychowawca wielu pokoleń kapłanów i braci akademickiej. Organizator i pierwszy diecezjalny Asystent Akcji Katolickiej Archidiecezji Poznańskiej, b. wikariusz biskupi ds. stowarzyszeń i ruchów katolickich. Krzewił w nas odpowiedzialność i umiłowanie Boga, Kościoła i Ojczyzny. Troszczył się o siłę rodziny i przyjazne relacje międzyludzkie. Serdeczny, życzliwy i wymagający wychowawca i przewodnik. Pamięć o Nim będzie dla nas wyzwaniem do dobrego życia.
Wdzięczni za kapłańską posługę Księdza Stefana – Artura polecamy naszego Duszpasterza i Asystenta Miłosiernemu Bogu.
Uroczystości pogrzebowe odbędą się w Poznaniu w parafii pw. św. Rocha (ul. Św. Rocha 10):
Wprowadzenie w poniedziałek 31 marca br. o godz. 1730 różaniec i Msza św.;
Msza św. pogrzebowa zostanie odprawiona we wtorek 1 kwietnia br., o godz. 1100;
Pogrzeb po Mszy św. na cmentarzu przykościelnym.
Byli Członkowie DA św. Rocha w Poznaniu,
Zarząd, Rada DIAK z Asystentem Akcji Katolickiej
Rada Ruchów i Stowarzyszeń Katolickich wraz z Asystentem
29-03-2014
---
Diecezja zielonogórsko-gorzowska
Konkurs wiedzy o Ojczyźnie, Kościele i Regionie ,,Ojczyzno Ma" - maj - listopad 2014
Aby krzewić treści religijno-patriotyczne wśród młodego pokolenia, Diecezjalny Instytut Akcji Katolickiej po raz kolejny organizuje Konkurs ,,Ojczyzno Ma". Zapraszamy uczniów klas gimnazjalnych do udziału w konkursie wiedzy o Ojczyźnie, Kościele i Regionie. Konkurs składa się z dwóch etapów: I - parafialno-szkolnego (maj i czerwiec 2014) oraz II - diecezjalno-wojewódzkiego (listopad 2014).
Zaproszenie do Konkursu -

; Regulamin -

; Formularz zgłoszeniowy -


Ryszard Furtak, sekretarz DIAK; 25-03-2014
---

Diecezja tarnowska

DROGOWSKAZY – wystawy poświęcone bł. Janowi Pawłowi II

Akcja Katolicka par. Matki Bożej Niepokalanej w Nowym Sączu i Muzeum Okręgowe w Nowym Sączu są głównymi organizatorami wystaw poświęconych Janowi Pawłowi II.

19 marca, w przeddzień nawiedzenia peregrynującego po naszej diecezji obrazu Jezusa Miłosiernego wraz z relikwiami św. siostry Faustyny i bł. Jana Pawła II, w Parafii Matki Bożej Niepokalanej miało miejsce wydarzenie pn. Drogowskazy. Otwarcie wystaw: "Jan Paweł II. Orędownik Bożego Miłosierdzia" oraz "Pokój Tobie Polsko, Ojczyzno moja" poprzedził spektakl słowno-muzyczny w wykonaniu uczniów Gimnazjum nr 3 im. H. Sienkiewicza w Nowym Sączu.

(...)

[całość +


]

Bożena Kwitowska,Prezes DIAK diec. tarnowskiej

;

foto.: Ks. Zbigniew Wielgosz, Wojciech Kwitowski

25-03-2014
---
Diecezja bielsko-żywiecka
"Trzymajcie się słowa Bożego" – rekolekcje wielkopostne
Rekolekcje wielkopostne Akcji Katolickiej, które odbyły się w dniach 21-23 marca 2014 r. prowadził ojciec misjonarz, salezjanin ks. dr Stanisław Witkowski. Hasło rekolekcji to "Trzymajcie się słowa życia", które to zawołanie obrał sobie nasz czcigodny ks. bp. Roman Pindel.
Rekolekcje przeżywała 70-osobowa grupa członków i sympatyków Akcji Katolickiej u sióstr Serafitek w Hałcnowie. Konferencje były różnorodne i bardzo bogate w treści. Było o przebaczaniu, o ufności Bogu, o małżeństwie i rodzinie, o świętowaniu niedzieli, o gigancie Bożym Janie Pawle II i o nadziei i miłości. Jak powiedział rekolekcjonista:" Nadzieja wyrasta ze słowa. Słowo daje nam właściwy obraz Boga. Jeżeli w Bogu pokładamy nadzieję to sami się uświęcamy. Pielęgnujmy w sobie nadzieję… Nadzieja nas prowadzi do miłości. Miłość leczy. Miłość jest ofiarna i bezinteresowna. Odpowiadajmy na miłość!"
Irena Olma, wiceprezes DIAK; 23-03-2014
---

Archidiecezja warszawska
Akcja Akcji Katolickiej na rzecz Świątyni Opatrzności Bożej
Uroczysty koncert Państwowego Zespołu Ludowego Pieśni i Tańca MAZOWSZE zgromadził 1 marca br. w Świątyni Opatrzności Bożej ponad tysiąc osób, wypełniając dolny kościół po brzegi. Zespół śpiewał w Świątyni i dla Świątyni, ponieważ dochód ze sprzedaży cegiełek - wejściówek, przeznaczony był na cele budowlane zaplanowane na najbliższy rok. (...) [całość +


]
Elżbieta Olejnik, prezes DIAK, foto.: Wojciech Łączyński; 17-03-2014
---

Diecezja sandomierska
Wielkopostny dzień skupienia Akcji Katolickiej
Dnia 15 marca br. w parafii pw. Świętego Floriana w Stalowej Woli odbył się diecezjalny dzień skupienia Akcji Katolickiej. Celem tego spotkania było duchowe przygotowanie na święta Zmartwychwstania Pańskiego jak również przygotowanie do kanonizacji Jana Pawła II. (...)
Ks. Artur Barański; 17-03-2014
---

Archidiecezja warmińska
Finał diecezjalnego Konkursu Biblijnego im. Sługi Bożego kard. Augusta Hlonda
Cele Konkursu Biblijnego:
1. Ukazanie Pisma Świętego jako źródła wiary i zachęta do jego indywidualnej lektury.
2. Wspomaganie uczniów w praktycznym wykorzystaniu zdobytej wiedzy.
3. Promowanie osiągnięć uczniów i katechetów. (...)
Agnieszka Bułak, foto.: Martyna Łuciw; 15-03-2014
---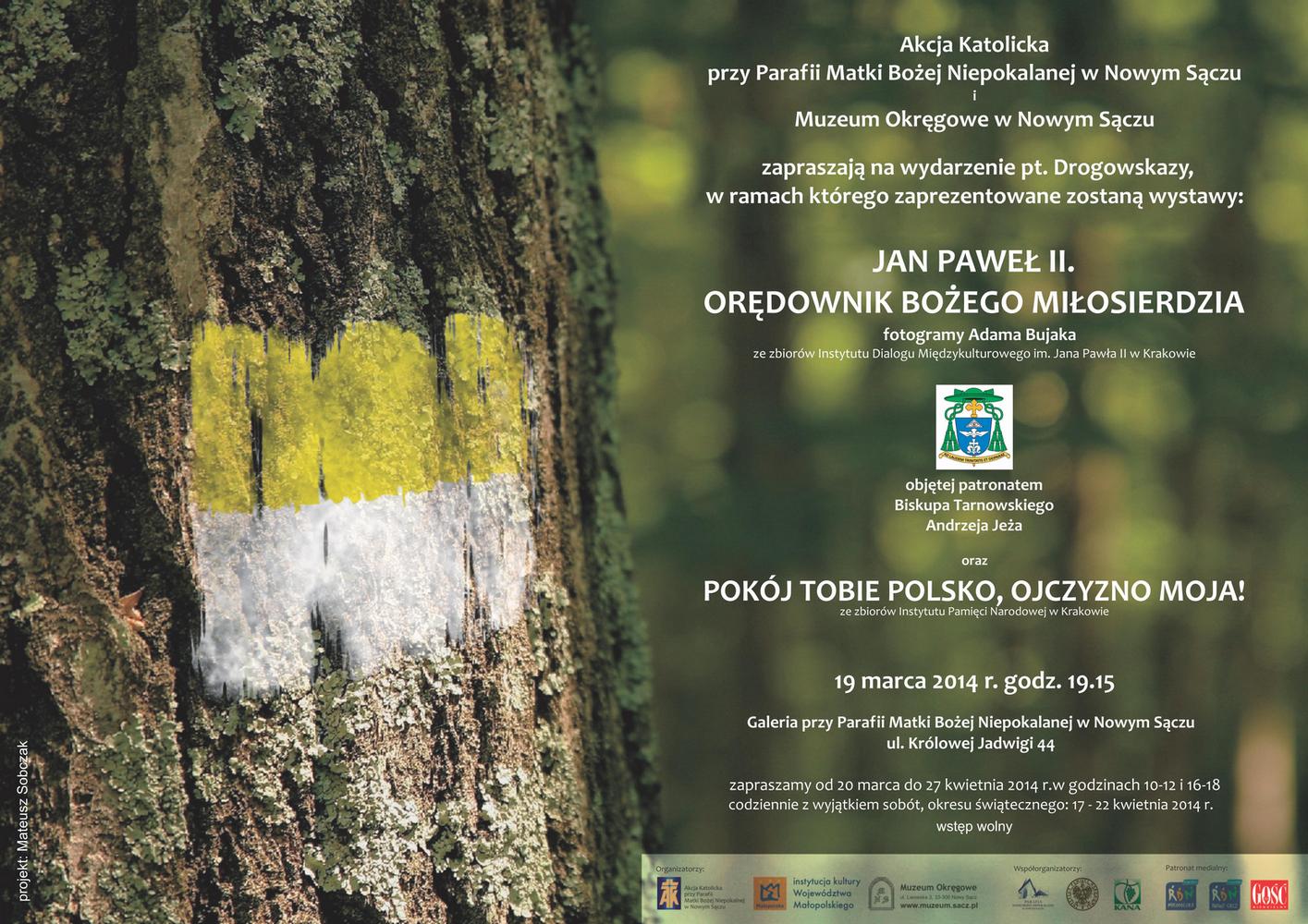 Diecezja Tarnowska
Kanonizacja bł. Jana Pawła II – wydarzenia w Małopolsce
Kanonizacja bł. Jana Pawła II odbędzie się w Watykanie 27 kwietnia 2014r. w Niedzielę Miłosierdzia Bożego - święto ustanowione przez Papieża Polaka. Włączenie w poczet świętych Kościoła Katolickiego naszego wielkiego Rodaka nastąpi w dziewięć lat po Jego śmierci i trzy lata po beatyfikacji.
(...) Jan Paweł II - ojciec duchowy odrodzonej AK w Polsce, mówił do nas: "Głos chrześcijan nie może zamilknąć, ponieważ Chrystus powierzył nam słowo zbawienia, którego pragnie każde ludzkie serce. Ewangelia ofiaruje nam bezcenną perłę, której wszyscy szukają." Niech kanonizacja naszego wielkiego Rodaka nie stanie się dla nas jedynie ważnym wydarzeniem, wzruszającym przeżyciem, powodem do dumy z bycia Polakiem, ale nade wszystko niech utwierdzi naszą wiarę, wzmocni nadzieję, rozpali miłość, doda odwagi do apostołowania i ugruntuje niezmącone przekonanie, iż "Chrystus, Syn Boży, który z miłości do człowieka przyszedł na świat dwa tysiące lat temu, także dzisiaj prowadzi swoje dzieło. Musimy mieć przenikliwy wzrok, aby je dostrzec, a nade wszystko wielkie serce, abyśmy sami stawali się jego narzędziami. Możemy liczyć na moc tego Ducha, który przynagla nas, abyśmy wyruszyli w dalszą drogę, pokrzepieni nadzieją, która <zawieść nie może> (Jan Paweł II).
[całość

]
Bożena Kwitowska, Prezes Instytutu Akcji Katolickiej Diecezji Tarnowskiej
14-03-2014
---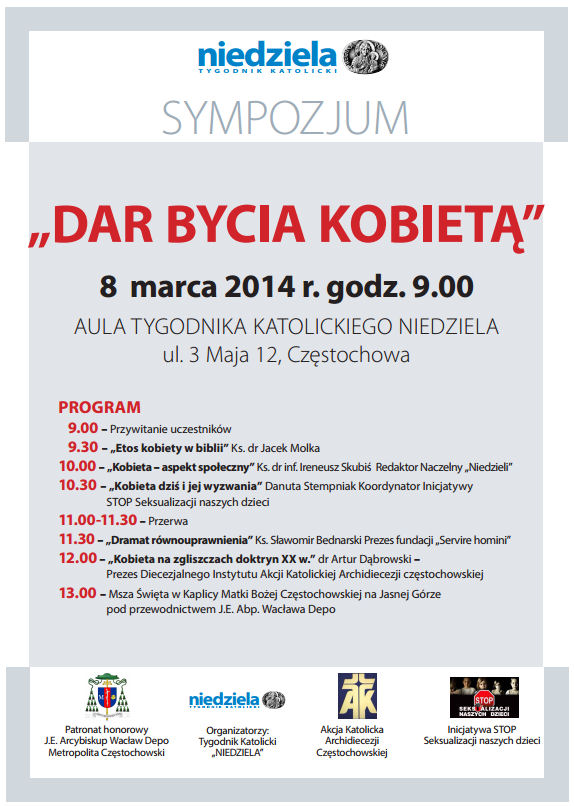 Archidiecezja częstochowska
Dar bycia kobietą - sympozjum
8 marca 2014 r. od godz. 9.00. w auli Tygodnika Katolickiego "NIEDZIELA" przy ul. 3 Maja 12 w Częstochowie odbędzie się sympozjum p.t.: "DAR BYCIA KOBIETĄ". Patronat honorowy nad sympozjum sprawuje J. E. Metropolita Częstochowski Arcybiskup Wacław Depo. (...) [PROGRAM

; PLAKAT

]
03.03.2014
---

Diecezja koszalińsko-kołobrzeska
Rok kard. nom. Ignacego Jeża
Dzień skupienia zorganizowany 22 lutego przez Diecezjalny Instytut Akcji Katolickiej dla członków i sympatyków AK z diecezji koszalińsko-kołobrzeskiej zainaugurował obchody Roku kard. nom. Ignacego Jeża - twórcy zrębów Kościoła katolickiego na terenach obecnej diecezji koszalińsko-kołobrzeskiej i ordynariusza w latach 1972-1992. Po zakończeniu II wojny światowej tereny północne i zachodnie powróciły do Polski, należało więc stworzyć nowe struktury kościelne. Bullą papieską Episcoporum Poloniae coetus z 28 czerwca 1972 r. erygowano cztery diecezje: opolską, gorzowską, szczecińsko-kamieńską i koszalińsko-kołobrzeską. Tej ostatniej ordynariuszem został mianowany Ignacy Jeż. Jemu też przypadło w udziale organizowanie Kościoła i jego struktur. (...) [całość +


]
Donata Prończuk
; foto.: Stefan Purol
; 2014-02-25
---

Archidiecezja Warmińska
"Gender - ideologia za maską nauki"
Z wykładem "Gender – ideologia pod maską nauki" wystąpił 13 lutego br. w Olsztynie ks. prof. Paweł Bortkiewicz. Prelegent nawiązał do wydarzeń, które miały miejsce na Uniwersytecie im. Adama Mickiewicza w Poznaniu, gdzie w grudniu ubiegłego roku jego wykład w sposób skandaliczny zakłóciła grupa zwolenników doktryny, wśród których nie brakowało wykładowców z kierunku gender – studies poznańskiej Alma Mater. (...) [całość +


]
Przeczytaj informację Gościa Niedzielnego

(bu), foto.: Zbigniew Poloniewicz, red. Krzysztof Kozłowski; 16-02-2014
---

Diecezja zielonogórsko-gorzowska
Spotkanie członków Akcji Katolickiej z: Dychowa, Gubina, Krosna Odrzańskiego i Zielonej Góry w ramach trwającej nowenny
W ramach trwającej Nowenny przygotowującej nas do Jubileuszu XX lecia powstania AK w Diecezji Zielonogórsko-Gorzowskiej przez dziewięć kolejnych miesięcy spotykamy się w różnych rejonach działania naszego stowarzyszenia, by przygotować się do tego wydarzenia. Nowenna proponuje program duchowy, otwarty dla wszystkich, którzy zachcą podjąć zobowiązanie starannego przygotowania się do tej rocznicy.
Akcja Katolicka naszej Diecezji została powołana dekretem JE Biskupa dr Adama Dyczkowskiego w dniu 27 listopada 1994 r. jako pierwsza w Polsce. (...) [całość +


]
Ryszard Furtak, sekretarz DIAK; 16-02-2014
---

Diecezja sandomierska
Spotkanie Rady Diecezjalnego Instytutu Akcji Katolickiej
Prezesi parafialnych oddziałów Akcji Katolickiej po raz pierwszy w tym roku 15 lutego spotkali się na radzie Diecezjalnego Instytutu Akcji Katolickiej. Spotkanie to rozpoczęło się uroczystą Mszą św. w katedrze sandomierskiej, której przewodniczył i Słowo Boże wygłosił Dyrektor Duszpasterstwa Ogólnego Diecezji Sandomierskiej ks. dr Marek Kumór. W homilii ks. Profesor podkreślił ważność dawania świadectwa wiary, która wynika z sakramentu chrztu św., a także rolę w Ewangelizacji, jaka spoczywa na członkach Akcji Katolickiej. (...) [całość +


]
ks. Artur Barański; 16-02-2014
---
Diecezja koszalińsko-kołobrzeska
Dzień skupienia członków i sympatyków AK, 22 lutego 2014
Dzień Skupienia odbędzie się 22 lutego 2014r. (sobota) w Centrum Edukacyjno – Formacyjnym w Koszalinie i poprowadzi go ks. Piotr Zieliński.
Temat: "Ignacego Jeża przygody z Opatrznością", wiązać się będzie ze zbliżającą się 100. rocznicą urodzin Kardynała Nominata. Na to formacyjne spotkanie zapraszamy również członków Rad Parafialnych naszej diecezji.
Koszt: 50 zł. Zgłoszenia: kom. 667999722
Program: 10.00 – kawa i herbata, 10.45 - konferencja I, 11.30 - różaniec z rozważaniami i wystawienie Najświętszego Sakramentu, 13.00 - obiad, 13.30 - posiedzenie Rady DIAK, 15.15 - konferencja II, 16.15 – rachunek sumienia i możliwość spowiedzi, 17.00 - Msza Święta, 18.00 - kolacja i rozesłanie.
Donata Prończuk, prezes DIAK; 10-02-2014
---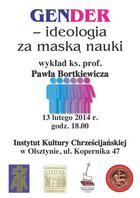 Archidiecezja Warmińska
Gender - ideologia za maską nauki
13 lutego 2014 r., o godz. 18.00, w Instytucie Kultury Chrześcijańskiej w Olsztynie (ul. Kopernika 47) odbędzie się wykład ks. prof. Pawła Bortkiewicza, na który zapraszają organizatorzy: Akcja Katolicka Archidiecezji Warmińskiej, Stowarzyszenie Civitas Christiana Oddział w Olsztynie, Stowarzyszenie Święta Warmia oraz gospodarz miejsca – Instytut Kultury Chrześcijańskiej im. bł. Jana Pawła II.
Ks. prof. dr hab. Paweł Witold Bortkiewicz (TChr ), profesor teologii specjalizujący się w zakresie teologii moralnej; w latach 2002-2008. dziekan Wydziału Teologicznego Uniwersytetu im. Adama Mickiewicza w Poznaniu, dyrektor Centrum Etyki UAM, członek Komitetu Nauk Teologicznych PAN, członek Towarzystwa Chrystusowego dla Polonii Zagranicznej. W swych wykładach podejmuje m.in. tematykę tzw. ideologii gender, wskazując na zagrożenie, jakie niesie dla tożsamości człowieka poprzez podważanie wartości, funkcji i praw naturalnej rodziny.
05-02-2014